I have to say, I love my work. My work consists of 4 separate elements:
1. Session-man.I am available for live gigs and tours.
2. Studio musician.I am experienced and comfortable in the recording studio environment.
3. Teacher.I actively teach at the "Civica di Musica" music school and at the BeVoice school of music, and I accept students for private lessons.
4. Composer.I am also available to compose commercial tracks and spots.
If you are interested in having me perform on your next project please contact me at info@robertodibella.com and I will get back to you ASAP.
Endorsing Laurus Basses
Lisa 2004 Tour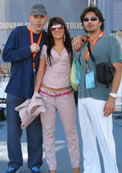 Tour with Rosario di Bella